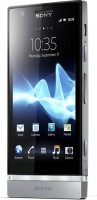 Clove now has the midrange Xperia P up for pre-order for £330, while Expansys will have it for slightly more at £339.
The aluminum body houses a dual-core 1 GHz processor, 1GB of RAM, 16 GB of storage space and a 4-inch, 540 x 960 pixel resolution screen. It also features NFC, Wi-Fi, Bluetooth and an 8MP shooter capable of 1080p video recording.
If you live in the UK and know of other retailers getting ready to ship this phone, let our readers know in the comments below.