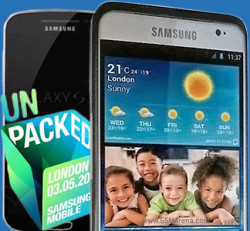 The CPU powering the Galaxy S III is almost certain to be a quad-core Exynos 4 Quad, which features four Cortex-A9 cores with 32nm architecture and the Mali 400-MP GPU. We've seen early GL 2.1 benchmarks where the Galaxy S III made easy work of its competitors.
The camera is taunted to be either a 12MP or an 8MP unit. The sample pictures we saw supported the 8MP claim. Interestingly, the Galaxy S III EXIF data reported an aperture of F/2.6 (the S II offers a F/2.65) and a focal length of 3.7mm (as opposed to the 3.97mm of the S II), meaning that the new device will have either a wider angle lens or a slightly bigger sensor.
Finally we expect the Galaxy S III to feature both a hardware home button and a 5-column UI (like the Galaxy Note).
There's not long to go now so stay tuned. We'll be at the London event tonight, covering it live for you as it unfolds.