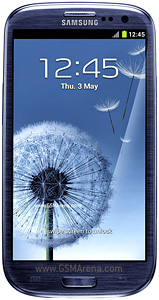 O2 requires you to pay at least £99 upfront and sign a £37/month deal, but it does offer unlimited texting along with 600 minutes. All quoted prices are for the 16GB Galaxy S III version, but with a microSD card slot on board we doubt anyone will need anything else.
By the way, Phones4U and their brick-and-mortar shop at Oxford Street will have units available in store on May 30, too and they'll be offering a £50 premium accessory bundle of yet unknown contents.
There's no SIM-free price for the Galaxy S III just yet.
The Samsung Galaxy S III is headed for the US as well - it's expected to arrive in June, but exact launch dates and carrier availability will be announced later. The US version will be sporting both HSDPA+ and LTE radios.