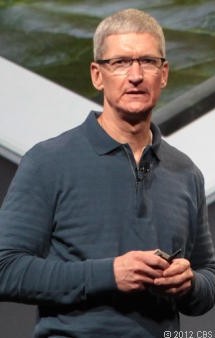 Tim Cook, in his first year as CEO of Apple after the late Steve Jobs, earned $1.4 million in salary this year, along with $2.8 million in bonuses. This is significantly less than his 2011 earnings of $378 million.
According to Reuters, Cook's actual salary went up by some $900,000, but this year he did not receive any Apple stock, which accounts for the large disparity. In 2011, Cook received some $376.2 million in long-term stock awards.
Almost all of Cook's stock bonuses will be awarded in two large chunks, the first of which will vest in 2016, the second in 2021. This will act as an impetus for Cook to perform well as head of Apple in the meanwhile, as the value of the bonuses will depend on how high the stock is in 2016 and 2021.