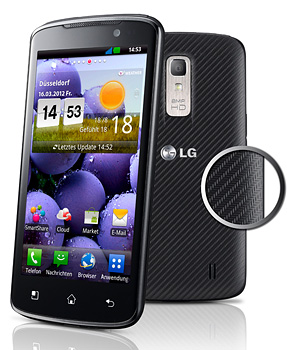 For a while there Europe was left out there, with South Korea and North America both having access to the LG Optimus LTE in some form, while the old continent couldn't enjoy the 720p goodness of the 4.5" HD-IPS LCD display.
Now LG is ready to right the wrong as it announcedLG Optimus True HD LTE P936 in Germany. The phone runs on a Snapdragon chipset with dual-core 1.5GHz processor and packs an 8MP camera with 1080p video capture. It runs Android 2.3.6 Gingerbread and comes with a 16GB microSD card. The Optimus True HD LTE also packs T-DMB connectivity.
But the network data connectivity is where it gets really interesting - the phone has both HSPA+ and LTE support. LTE coverage is pretty rare in Europe, but carriers around the continent are busy testing and expending their networks, so this shoud change soon.
There's no official launch date for the LG Optimus True HD LTE P936 mentioned, or anything on which carriers will get it.
While you wait for LG to clarify that, you might want to read our LG Nitro review (that's AT&T's version of the Optimus LTE), or learn how the 720p LCD stacks up against the 720p Super AMOLED of the Samsung Galaxy Nexus.