LG has some good news for 3D buffs - the
LG Optimus 3D Max
, their second generation Android phone with glasses-free 3D screen is launching across Europe. There's some bad news too - the Optimus 3D Max won't be coming to the UK for now.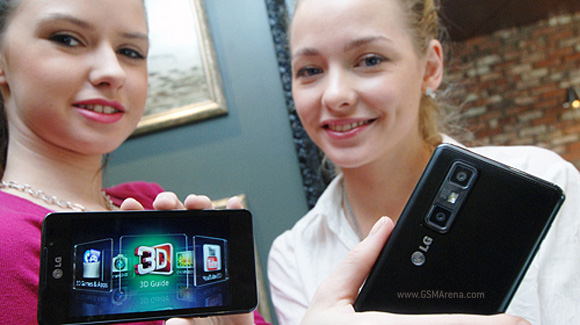 Anyway, the 3D Max brings updates over the
original Optimus 3D
in several key areas - the dual-core CPU is now clocked at 1.2GHz (it still uses a TI OMAP 4430 chipset though), it has 1GB of RAM (up from 512MB), it's 2mm thinner, 20g lighter and comes with NFC connectivity.
Also, the HDMI port has given way to a MHL-enabled USB port, which can do up to 1080p video output (in both 2D and 3D modes). LG will release a tool that upscales Android apps to 1080p resolution as a maintenance release later on.
The dual-5MP camera hasn't changed though and the screen is still a 4.3" WVGA LCD.
Another thing that will come as a maintenance release further down the line is the Range finder app that lets you measure distances to and the dimensions of objects by leveraging on the smartphone's two cameras and some clever math.
There's another feature that LG showed off
at the MWC
- the DSLR shot that uses similar distance measurements to add a DSLR-style shallow depth of field to regular photos from the camera. The press release makes no mention of that feature, so there's a chance it didn't make the cut.
What is included with the Optimus 3D Max is a 3D converter tool that takes 2D apps (as in non-stereoscopic) and converts them to stereoscopic 3D. That's good, because there aren't that many stereoscopic apps out there.
Amazon.de has the LG Optimus 3D Max available for €515 (including VAT), while some of the retailers over at
Guenstiger.de
offer it for €440.
Amazon.at
(Austria) also have the smartphone available for €515. That's all the online stores we found to sell the 3D Max, but availability should expand quite quickly.