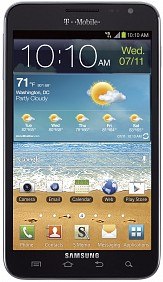 After numerous leaks, the T-Mobile-bound Samsung Galaxy Note is finally official, as last night the carrier unveiled their own version of the phoneblet.
Despite lacking LTE support, the T-Mobile Galaxy Note still comes with a Qualcomm S3 chipset, instead of the Exynos 4210 used in the international version. The flip side is that this Samsung Galaxy Note gains support for what T-Mo call 4G - 42Mbps HSPA, while the Note N7000 network support is limited to 21 Mbps.
To make up for coming so late to the market the T-Mobile version comes running ICS out of box and is also SAFE-certified, which means it has a full suite of enterprise-ready features and capabilities, including support for top-tier mobile device management (MDM) providers, on-device AES256-bit encryption, enhanced support for Microsoft Exchange, as well as integrated support for a range of virtual private network (VPN) solutions.
The Samsung Galaxy Note is expected to be available from select T-Mobile retail stores and online via the company's website in the coming weeks. There's no word on pricing or pre-orders just yet.