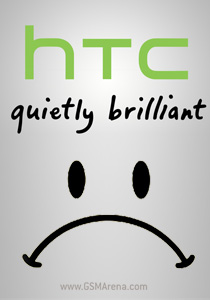 HTC was on the rise - in 2011, the company posted a record second quarter and an even better third quarter. Then in the final quarter of last year there was a sharp 25% drop in revenue, bringing them down to levels comparable to their Q1 2011 performance.
It still pulled off a successful year overall - revenue for 2011 was up 67% compared to 2010 - but they're not starting off this year very well. HTC released some unaudited data on their performance for the first three month of this 2012 and things are not looking great.
HTC's revenue for Q1 of 2012 was $2.29 billion, a massive 34.92% drop compared to Q1 of 2011. Operating income was $172.9 million and net income after taxes was $151.4 million.
A more detailed report on HTC's Q1 performance should come out later on, which will hopefully contain more info on just what happened. HTC also has its One series, which are just hitting the shelves and should help them pull off a better Q2.