The upcoming Nokia Lumia 900 for AT&T joined the list of smartphones to get the teardown treatment. This time it was TechRepublic, who first got a peek inside the polycarbonate unibody and treated us to a bunch of photos of its internals.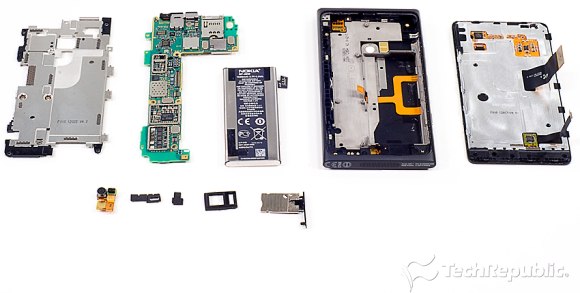 There were little surprises to be found inside the Nokia Lumia 900 - the 1.4GHz Scorpion CPU, 512MB of RAM and the 16GB of storage were sitting alongside the 1830 mAh battery and
the Qualcomm MDM9200 3G/4G radio chip. The touchscreen controller was found to be Atmel mXT224, while the local radios (Wi-Fi, Bluetooth and FM) were delivered by a Broadcom BCM4329 unit.
The build quality of the Nokia Lumia 900 was found to be great - something we managed to see for ourselves in our
brief
encounters with the Nokia WP flagship.
You can find the full gallery of the Nokia Lumia 900 teardown by following the source link below.