It seems that LG are keeping true to their word, as the
LG Optimus TrueHD LTE
is at long last available in Europe.The device, which has only been available in North America and Korea until now, had
previously been announced
by LG for a limited European launch in three markets: Portugal, Germany and Sweden.
Portuguese retailer Vodafone has the device listed as the LG Maximo True HD LTE, due to naming conflicts with local mobile operator Optimus Telecomunicações.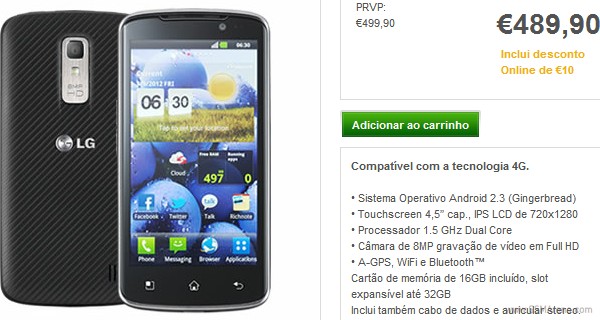 The Gingerbread-running LG Optimus/Maximo TrueHD LTE has dual-core 1.5 GHz Scorpion CPU, 4GB of internal memory, 1 GB of RAM, a 4.5 inch HD (720 x 1280) display, and an 8MP camera that can shoot full HD video, and is
listed at €489.90
.
We'll let you know if we hear anything else about the other markets of the TrueHD LTE – namely Sweden and Germany.