BlackBerry London is a name we have heard several times before. We have even
come across
a purported image of the device before. Now we have yet another image of the upcoming smartphone based on RIM's new BlackBerry 10 platform.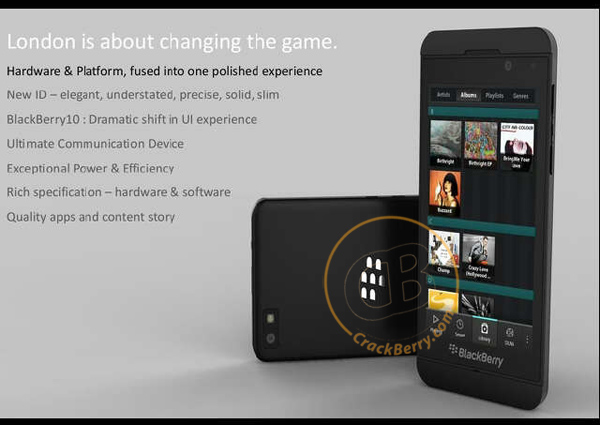 The image, courtesy
Crackberry.com
, shows the device in black, and looks like a slide from a presentation. The front of the device looks similar to the last picture we saw of the phone but has some differences. For starters, it is completely black, but that could just be an alternate shade. What more important is that the beveled edges are missing, replaced by rounded corners and the large BlackBerry logo on the bottom is now a bit smaller and directly below the display.
We also get a glimpse of the back side of the phone, that shows the camera lens along with an LED flash in the top left corner of the phone.
The new design doesn't look anything like any current BlackBerry phone out there. However, it does look a lot like existing Android phones, with the
HTC HD2
and
Motorola DROID X2
springing to mind first. The phone does look quite good though and also very slim. You can see by the large amount of space above the display that suggest that RIM has really stretched the phone to get as much battery in as possible while keeping the phone thin. The software also looks good, even though all we can see of it is the music player interface.
We hope this one makes out of the gate before the end of this year, along with that new BlackBerry 10 platform that RIM has promised us.