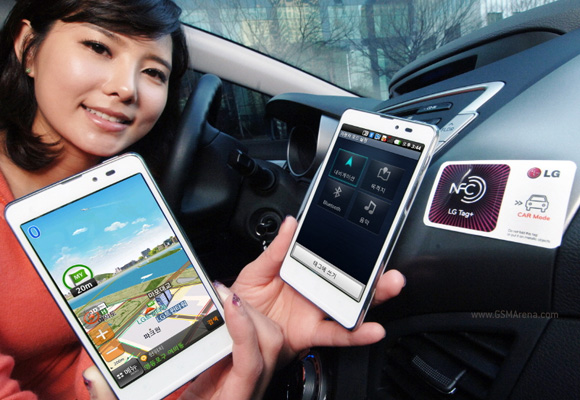 We're a week away from the MWC but the announcements of new phones keep flooding in - the latest is the LG Optimus LTE Tag, an LTE-enabled droid. Its other highlight is the NFC technology and accompanying tags.
LG calls them Tag Plus and several will be available with the Optimus LTE Tag. The phone will detect these NFC tags and perform some customizable action - e.g. launch the SatNav app when it sees the car tag, turn on the Wi-Fi in your office, set up tomorrow's alarm when you put it on the nightstand and so on.
It's a very similar concept to the Sony Smart Tags, but the LG Tags Plus will be stickers and you'll get sheets of them with the Optimus LTE Tag, both pre-defined and blank ones and users will be able customize what each of them does.
Other than that, the phone is like a smaller Optimus LTE (which also has NFC). The LTE Tag has a 4.3" IPS LCD screen with 650 nits of brightness, a 1.2GHz dual-core processor and a MHL port. The LG Optimus LTE Tag will launch in South Korea with Android 2.3 Gingerbread.
There are still some unknown detail, like camera resolution and pricing and availability. The Optimus LTE is available in the States, so maybe the Optimus LTE Tag will be too, but there's no official info on that