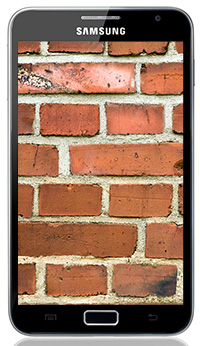 If you own a Samsung Galaxy S II or the Galaxy Note and are a regular member of the xda-developers forum, you may already be aware of a bug with some of these devices where erasing the eMMC could hard brick your phone.
This problem would surface if the user tried to flash a custom ROM or kernel that used MMC_CAP_ERASE. Thankfully, developerChainfire came up with an app that would let you know if your device was shipped with a faulty eMMC.
Apparently, this issue has existed for a long time now and even though it was noticed a couple of months ago and was much talked about in the developer community Samsung did not respond to it, until now.
According to user Daniel Hillenbrand on Google+, Samsung has said that "Patches will be out in form of new official ROMs and also sourcecode releases after testing, which might take some time."
If you have a Galaxy S II or Galaxy Note, just use the
Chainfire
GotBrickbug app from
here
and see if the eMMC in your device is affected. If it is, refrain from any kind of ROM flashing (except for CM9 kernels, which are safe to flash) until the patch from Samsung starts rolling out.