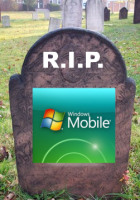 If there were any people left using Windows Mobile 6.x at all, they should know that Microsoft will shut down the Marketplace for its former OS on May 9. You won't be able to download or update apps after that.
Everything you installed from there will continue to work, but if you happen to reset your phone, you'll lose your apps. Your only option then will be to side-load them afterwards.
We really can't imagine anyone left using the platform and specifically its deserted application store anyway, so closing it should be the right decision.
Killing the application store of an OS means the end of the OS itself, so R.I.P. Windows Mobile.